The principal activities of self-employed programmer Jouke Wijdoogen at Eyemation are programming a variety of PLCs , HMI / control panels / operator panels and SCADA systems . There's been many years of experience from both the practical as the theoretical side in many diverse industries. The knowledge can be showed by the obtained certificates and diplomas that you can find on the website so that you are assured of the right person for the job. Among others i'm certified with the Diploma Siemens certified programmer. Therefore, the new TIA Portal training route is followed to always be able to continue working on improvements and optimal uses of the PLC systems.
Applying and maintaining of technology serving industrial automation is what is at stake at Eyemation. A well -trained in multiple disciplines engineer / programmer has the skills to present your projects and / or machines. It is also possible to complement the programming work with full electrical system design to engineer means including Eplan P8.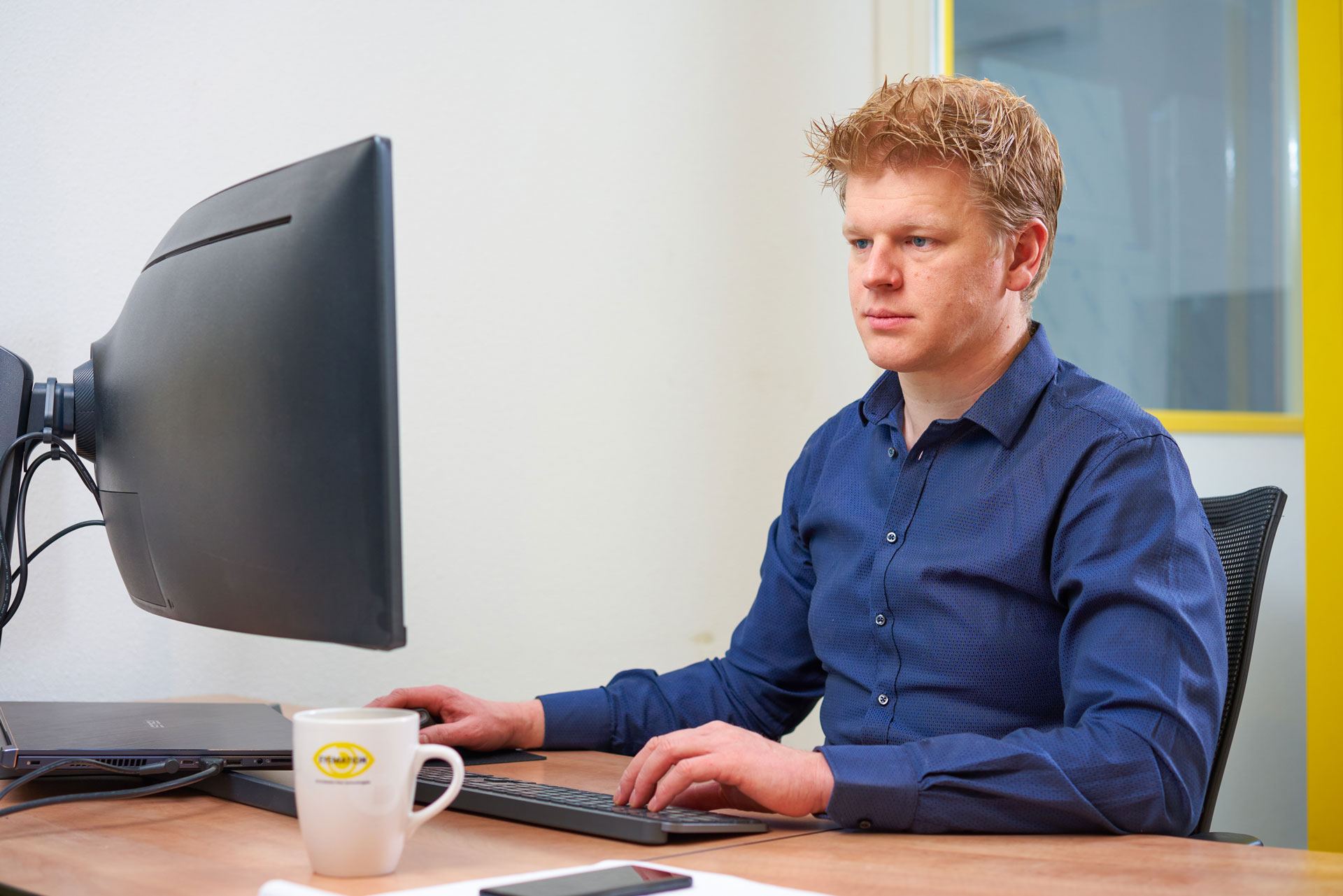 The programmer can software for process control and logistics functions compose and perform instant analysis of your process automation as well as intergrade the process visualization of your installation.
Itself we have the software packages:
Siemens TIA Portal Proffesional / WinCC Basic,Comfort,Advanced & Proffesional

Siemens Step 7 Safety (Tia Portal + V5.6)

Siemens Step 7 + WinCC flexible

Siemens Logo Soft

Unitronics U90 Ladder

Unitronics Visilogic & Unilogic

Mitsubishi GXWorks 3 (FX,L,Q series)

Mitsubishi IQWorks

GX (IEC) developer

Melsec Medoc

Schneider Electric PL7 

Telemechanique Zelio Soft

CoDeSys
Because of the experience we have in programming and industrial automation we can also work with a big variety of programming software depending on the project we can supply the software our self or you can make it available to us if you have the programming software yourself, like:
Melsec Medoc
Panasonic Nais Control / FP win pro
Omron CX-Programmer / CX one /Syswin
Moeller, ABB, Hitatchi, Koyo (Click), Allen Bradly, Beckhoff, Telemecanique (TSX/ Micro/ Unity) etc. 
A Database, PLC, Touchpanel, actuator etc, are those which generally also require any communication to the outside world or themselves. Proper engineering of a stable and reliable communication network is at all times important
o.a. Profibus, Profinet, Profisafe, TCP/IP, GPRS, GSM/SMS, Modbus, CANbus, Canopen, Unican, RS 232/485/422, ASIbus, CC-link, Devicenet, Safetybus, MPI, CAN, Componet, SNMP, J1939, IO link en natuurlijk Ethernet.
Are some communication capabilities that can be applied by Eyemation.
The PLC range is very wide, but mostly the types of Unitronics and Siemens are programmed.
o.a. Unitronics:
Jazz, M90/91, Vision120, Vision130, Vision230, Vision260, Vision280, Vision290, Vision350, Vision530, Vision560, Vision570, 
Vision1040 en Vision1210.
 Logo S7-200, S7-300, S7-400, S7-1200, S7-1500 & S7-1507S (Soft PLC) including safety versions.Vision1040 en Vision1210.
Whether you're looking for a PLC programmer for an change on an existing installation, replacing a PLC related to failures or age, only the PLC software, a complete control system with control or just some advice. Then I, Jouke Wijdoogen from Heerhugowaard North Holland is the proper self-employed programmer for your job. Jouke's activities can be performed worldwide, bud mainly in Holland. 
 Logo S7-200, S7-300, S7-400, S7-1200, S7-1500 & S7-1507S (Soft PLC) including safety versions.Vision1040 en Vision1210.